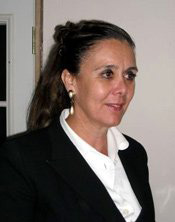 Dr. Maite Moreno
Job Title: Dentist
Specialisations: Prosthodontics
Languages: English, French, German, Italian, Spanish
Completed her dental degree at The Universidad Tecnológica de México, UNITEC 1974-1978. Universidad Nacional Autónoma de México, UNAM, 1981. In 1979 completed a 3 year Master in Science on Denture Prosthodontics, at The University of Michigan, Ann Arbor, MI., USA 1979-81.
Trained in Cosmetic Dentistry, veneers, crown and bridge; Implant Dentistry, restoration of simple to complex procedures; Complete and Removable Partial dentures. Dr. Moreno is a member ofAcademy of Osseointegration, American College of Prosthodontic (ACP), Mexican Dental Association, Colegio de Odontologos de Tijuana, AC, founder of Colegio de Implantología Bucal de Baja California (CIBBC) and Scientific Comision Chair for the College. (2008-2010)
She is also a Founding member of the Mexican Academy of Prosthodontists.
Her teaching credentials include:
Professor of Prosthodontic Clinic at Postgraduate level, Universidad de Guadalajara, (U de G) 1997 to date.
Head for the Continuing Dental Education in the specialty of Prosthetic Dentistry for the Mexican Dental Association (ADM), 1983-1984.
Professor of Oral Diagnosis, Universidad Intercontinental, 1982-1984
Assistant Professor in Fixed Prosthodontics, Universidad Tecnológica de Mexico 1982-1984.
Assistant Instructor, at the Denture Preclinical laboratory Course, 1980-1981 Ann Arbor, Mi, USA.
Dr. Moreno has lectured in USA, Canada, Europe and Mexico.
Dr. Moreno has four dental books published.